27.10.2017 | Original Contribution | Ausgabe 12/2017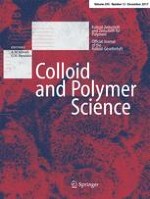 Water-dispersible nanohydrogels of cross-linked polyacrylamide
Zeitschrift:
Autoren:

Cándida A. Cisneros-Covarrubias, Miguel A. Corona-Rivera, Víctor M. Ovando-Medina, Hugo Martínez-Gutiérrez, Eduardo Mendizábal, Ricardo Manríquez-González
Abstract
Stable water-dispersible nanohydrogels of cross-linked polyacrylamide (PAAm) were obtained by batch (BP) and semicontinuous (SP) processes through inverse microemulsion polymerization using N,N'-methylenebisacrylamide (NMBAM) as cross-linking agent and bis(2-ethylhexyl) sulfosuccinate sodium salt (AOT) as surfactant. The effects of initiator type as 2,2'-Azobis(2-amidinopropane) hydrochloride (V-50), potassium persulfate (KPS), ammonium persulfate (APS), and benzoyl peroxide (BPO) on kinetics, particle size, and morphology were studied. It was observed that under the studied conditions, it is possible to form the inverse microemulsions using lower surfactant concentrations than those typically reported for microemulsión polymerization of this monomer.
Z
-average particle size (Dpz) of final latexes were in the range of 51 to 79 nm for BP, those corresponding to SP were in the interval of 118 to 225 nm, while Dpz of water-dispersed nanohydrogels varied from 530 to 825 nm conserving their spherical morphology. Particle size distributions of both latexes and the water-dispersed nanohydrogels were monomodal. High monomer conversions and fast polymerization rates were observed in all cases, achieving monomer-starved conditions when using low monomer addition rate in SP process.