2018 | OriginalPaper | Buchkapitel
2. Water Management Framework in New Zealand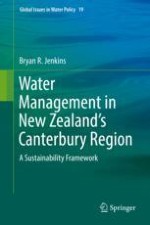 Erstes Kapitel lesen
Autor: Bryan R. Jenkins
Verlag: Springer Netherlands
Abstract
There were major changes to the water management framework for New Zealand that occurred in the late 1980s which brought in new legislation, the Resource Management Act (RMA ) ; new water administration bodies based on catchments, the regional councils ; an Environment Court; and, a change in the primary role for government from service provider to water regulator.
The RMA created a national standards and policy role for central government; a regional policy, planning, consenting and regulatory compliance role for regional government; and, a local land use planning role for city and district councils.
The RMA led to improvements in the control of point source discharges. The example of the Christchurch City Sewage Outfall is presented. The Act also facilitated the management of project-specific effects through assessment, consenting, monitoring and enforcement provisions. However there are shortcomings of the RMA in relation to water management, for example, the management of diffuse sources from land use activities and the cumulative effects of multiple activities. In addition, a disadvantage in relation to sustainable management is that the Act is focussed on the adverse environmental effects of activities rather than sustainability outcomes. Also with the ability of the Environment Court to deal with technical matters the process has become legalistic and adversarial.
Current developments at the national level include the establishment of a multi-stakeholder process , the Land and Water Forum , to attempt to achieve an agreed approach at the national level for water management in New Zealand. There are also proposals to modify the RMA to make the system easier to use, to increase its certainty and predictability, and reduce unnecessary duplication and cost. More recently three inquiry processes into the RMA have commenced.