2018 | OriginalPaper | Buchkapitel
Water Transboundary Policy of Kazakhstan and China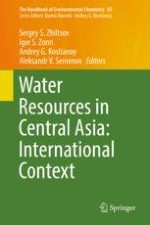 Erstes Kapitel lesen
Autoren: Igor S. Zonn, Sergej S. Zhiltsov, Lidiya A. Parkhomchik, Elena A. Markova
Abstract
The cooperation between Kazakhstan and China in the field of the joint use and protection of transboundary water resources is very important not only for these countries but for Russia as well. And the key issue here is that the use of such transboundary rivers as Irtysh and Ili, the principal sources of freshwater supply in Kazakhstan, influences tremendously the social and economic development of these countries.
In the recent decades, Kazakhstan has faced the growing water deficit, and one of the reasons for this is the policy of China to increase unilaterally the water intake from transboundary rivers Irtysh and Ili ignoring herewith the interests of the Kazakh side.
Such policy of China threatens the implementation of the plans for economic development of Kazakhstan and affects negatively the solution of the problems to ensure social and political stability. As a result, every year Kazakhstan has to deal with the growing number of problems which the solution is dependent, in fact, on China.