2020 | OriginalPaper | Buchkapitel
"We Don't Recognize Transsexuals … and We're Not Going to Treat You":
Cruel and Unusual

and the Lived Experiences of Transgender Women in US Prisons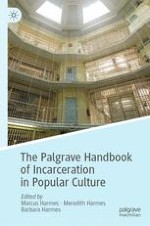 Erstes Kapitel lesen
Autoren: Tania Phillips, Annette Brömdal, Amy Mullens, Jessica Gildersleeve, Jeff Gow
Abstract
Within prison populations, the World Health Organization, the United Nations Office on Drugs and Crime, and the US National Standards to Prevent, Detect and Respond to Prison Rape: Final Rule (PREA) identify transgender prisoners as a "vulnerable group" and "vulnerable inmates" (Atabay 2009; Gatherer, Atabay and Hariga 2014; US Department of Justice 2012). This chapter critically analyzes the ways in which the stories and lived experiences told by a handful of incarcerated transgender women in the American documentary
Cruel and Unusual
(2006) have influenced the American "transgender women in prison human rights and citizenship rights" debate. This critical analysis examines the lived experiences of five transgender women living in men's prisons and the often inhumane and humiliating treatment transgender women endure—including bullying, violence, harassment, and sexual assault from fellow prisoners and prison officers; and solitary confinement and denial of gender-affirming health care by prison staff lacking transgender-specific health knowledge. The critical analysis of this documentary investigates the ways in which their stories and lived experiences have raised questions about human rights and citizenship rights violations of transgender women in male prisons and the influence this has had on the debate and movement to incorporate explicit policies and procedures to more effectively manage transgender people in a humane way. Drawing on Alice Ristroph's sexual punishment theory (2006), this critical documentary analysis also attempts to illuminate the idea that "sex in prison is in many ways a peculiar product of the carceral environment, and far more complicated than the paradigmatic account of prison rape," an explanation that "posits predator and prey: a cruel, sadistic perpetrator who manipulates or violently overpowers a vulnerable victim" (2006, 141).