2018 | OriginalPaper | Buchkapitel
26. Weak Solutions and Diffuse Interface Models for IncompressibleTwo-Phase Flows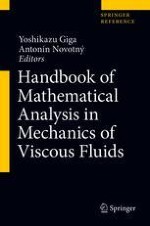 Erstes Kapitel lesen
Autoren: Helmut Abels, Harald Garcke
Abstract
In two-phase flows typically a change of topology arises. This happens when two drops merge or when one bubble splits into two. In such a case the concept of classical solutions to two-phase flow problems, which describe the interface as a smooth hypersurface, breaks down.
This contribution discusses two possible approaches to deal with this problem. First of all weak formulations are discussed which allow for topology changes during the evolution. Such weak formulations involve either varifold solutions, so-called renormalized solutions or viscosity solutions.
A second approach replaces the sharp interface by a diffuse interfacial layer which leads to a phase field-type representation of the interface. This approach leads typically to quite smooth solutions even when the topology changes.
This contribution introduces the solution concepts, discusses modeling aspects, gives an account of the analytical results known, and states how one can recover the sharp interface problem as an asymptotic limit of the diffuse interface problem.