2020 | OriginalPaper | Buchkapitel
3. Weakening Parliamentary Oversight, Increasing Corruption: Ghana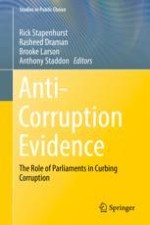 Erstes Kapitel lesen
Autor: Rasheed Draman
Abstract
After brief improvements early this decade, governance in Ghana appears to be deteriorating. While Ghana still ranks among the ten best performing African countries, its performance has weakened over the past decade, registering the eighth largest decline in overall governance of all African countries, with accountability and public management (along with national security, public safety and infrastructure) recording the largest declines (Mo Ibhahim, IIAG: Index Report.
http://​mo.​ibrahim.​foundation
, 2016). As a result, corruption is increasing. Four factors explain the poor oversight performance of the Ghanaian Parliament: the executive cooptation of Parliament; the executive dominance of Parliament; an expanded space for corruption; and excessive partisanship within Parliament. To reverse these trends, Members of Parliament must shift their drive from private economic and political gain to the provision of public goods. This will require a reinvigoration of the current rule of law mechanisms to allow for the naming/shaming and prosecution of errant MPs, and strong citizen-led groups to demand and exact accountability from MPs.