01.03.2015 | Ausgabe 1/2015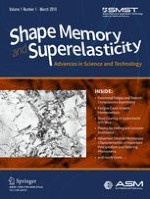 Wear Behavior of Austenitic NiTi Shape Memory Alloy
Zeitschrift:
Autoren:

Lina Yan, Yong Liu
Abstract
This study aims to understand the wear behavior of austenitic NiTi SMA with the hope to provide a guideline for its better use for wear-resist purposes. Ball-on-disk sliding wear tests with alumina counter ball were conducted at different temperatures and under different loads. Based on the coefficients of friction, the surface wear features, temperature-dependent stress–strain curves and the estimated contact stresses, the deformation mechanisms involved in the wear process were examined. Two wear modes were identified. Mode I is temperature-sensitive and occurred when
A
f
<
T
<
M
d
. In this mode, wear process was dominated by the interplay among contact stress, temperature and shape recovery property. Results show that, when the contact stress causes either elastic deformation of austenite or stress-induced martensitic transformation, the wear resistance was improved with increasing temperature. This was originated from increased critical stress for stress-induced martensite which retards plastic deformation. However, when contact stress is higher than yield stress of stress-induced martensite, wear resistance is deteriorated. Mode II occurs when
T
>
M
d
and it is less temperature-sensitive within the testing range. In this mode, the austenitic NiTi loses its superelasticity and obeys a conventional deformation sequence, and the key factor dominating the wear process is the magnitude of contact stress.