2010 | OriginalPaper | Buchkapitel
Web Information Credibility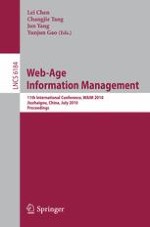 Erstes Kapitel lesen
Autor: Katsumi Tanaka
Verlag: Springer Berlin Heidelberg
World Wide Web is the biggest repository of information and knowledge. Such information gives people a framework for organizing their private and professional lives. Research aimed at evaluating the credibility of Web content has recently become increasingly crucial because the Web has started to influence our daily lives. The abundance of content on the Web, the lack of publishing barriers, and poor quality control of Web content raise credibility issues. If users are not aware of the credibility of Web information, they can be easily misled, and sometimes it is dangerous to users.
For example, some researchers reported that there are more than twenty thousand health-related sites on the Web, but more than half of such sites have not been reviewed by medical specialists. Wikipedia has been more popular on the Web, but the risks of Wikipedia are also indicated from the viewpoint of credibility. There are a lot of exaggerated ads and fake images and movies. The importance of the image forensic research also becomes important.
Many dimensions concerned with the information credibility are grouped into two key components: expertise and trustworthiness. Expertise is a factor about the writer's ability to produce correct or fair information and the degree to which the reader can perceive knowledge and skill from the information. The expertise factor is defined by the terms knowledgeable, experienced, competent, and so on. The trustworthiness is a factor about readers' perceptions that the information is true as they know it, and it is the degree to which readers can perceive the goodness or morality of the target information. The trustworthiness factor is defined by the terms well-intentioned, unbiased, reputable, and so on. In the areas of Web search and mining, however, most of conventional research has focused on ranking search results based on popularity by analyzing link structures or on mining useful rules from the Web. They have not focused on the analysis of the credibility of target information.
Consequently, few users perform rigorous evaluations of the credibility of obtained information. Therefore, the exploration of a general framework and automatic tools for supporting users in the judgment of web content credibility are becoming increasingly necessary.
In this talk, we describe a new framework and methods for evaluating the Web information credibility. These include: a bipartite-graph framework for evaluating the credibility of relations, and several methods for analyzing Web information credibility from the viewpoint of (1) content analysis, (2) social support analysis and (3) author analysis.