2019 | OriginalPaper | Buchkapitel
6. Weighted Overlay Analysis (WOA) Model, Certainty Factor (CF) Model and Analytical Hierarchy Process (AHP) Model in Landslide Susceptibility Studies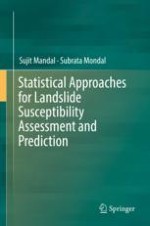 Erstes Kapitel lesen
Autoren: Sujit Mandal, Subrata Mondal
Abstract
The present study is dealt with the application of weighted overlay analysis (WOA) model, certainty factor (CF) model, analytical hierarchy process (AHP) model for the preparation of landslide susceptibility zonation map of Darjeeling Himalaya. To perform three models, various data layers with regard to elevation, slope aspect, slope angle, slope curvature, geology, soil, lineament density, distance to lineament, drainage density, distance to drainage, stream power index (SPI), topographic wetted index (TWI), rainfall, normalized differential vegetation index (NDVI) and land use and land cover (LULC) were taken into account. For the preparation of various data layers, topographical maps, Google earth images, SRTM DEM,
http://​www.​worldclim.​org
, satellite image (Landsat TM) and some authorized data were being processed on GIS environment (ArcMap 10.1). The prepared landslide susceptibility maps of Darjeeling Himalaya were classified into five, i.e. very low, low, moderate, high, and very high landslide susceptibility. To validate three landslide susceptibility zonation maps derived from WOA, CF, and AHP models, ROC Curve and frequency ratio plot methods were incorporated. ROC curve showed the level of accuracy of each landslide susceptibility map. The study revealed that WOA, CF, and AHP were with the accuracy level of 65.4%, 81.2%, and 67.5%. Frequency ratio plots sugessted that moderate, high, and very high landslide susceptibility zones in Darjeeling Himalaya are experienced with greater probability landslide phenomena.