2020 | OriginalPaper | Buchkapitel
Wentworth

and the Politics and Aesthetics of Representing Female Embodiment in Prison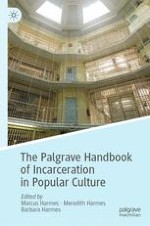 Erstes Kapitel lesen
Autor: Cornelia Wächter
Abstract
This chapter explores the representation of female embodiment in the Australian TV series
Wentworth
(2013-present). My focus will be on the series in the field of tension between depictions of female empowerment and narrative strategies catering to sensationalist and objectifying viewing.
Wentworth
ostensibly aims to "honestly depict life on the inside as it is in 2012" (Brian Walsh, Foxtel), and it addresses various concerns women face in a prison system that, by and large, treats them as an afterthought. These concerns include, for instance, the trials of motherhood in imprisonment, the specific health issues and stigmatization faced by trans* women, or intersections of gender and race. I argue, however, that
Wentworth
, instead of rendering a faithful, complex and differentiated depiction of female embodiment in prison, ultimately stigmatizes both the officers and the incarcerated women and thus caters to the justification of the prison industrial complex, as well as to the stigmatization of women whose gender and/or sexual identity does not meet heteronormative ideals.