2018 | OriginalPaper | Buchkapitel
Were "Super-Turing" Diagrammatic Reasoning Mechanisms Ancient Products of Biological Evolution?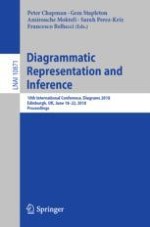 Erstes Kapitel lesen
Autor: Aaron Sloman
Abstract
Immanuel Kant had understood some deep facts about mathematical knowledge that have mostly been ignored by recent researchers on cognition, especially intrinsic connections between many everyday actions and mathematical competences, e.g. competences concerned with the fact that organisms inhabit environments with complex mathematical structures, some produced by activities of life forms, others not. I'll present a variety of examples, to be discussed with the audience, with deep implications for future research in artificial and natural cognition, and raise questions about the diagram-like information structures many cognitive processes seem to be concerned with: "diagrams in the mind". I suspect that Alan Turing's 1952 paper on chemical morphogenesis, published two years before he died is connected with this. Perhaps if he had lived several more decades he would have worked on what I call the
Meta-Morphogenesis
project, which was inspired by Turing and has deep connections with mathematical structures important for animal cognition and future machine cognition. However it is an open question that current forms of (digital) computation will need to be enhanced using chemistry-based computation similar to sub-neural mechanisms in brains, or whether the required forms of reasoning can occur in virtual machines implemented in digital machinery. Von Neumann's last little book, written as he was dying in 1958, raises similar questions.