2016 | OriginalPaper | Buchkapitel
West Africa's Economic Growth and Weakening Diversification: Rethinking the Role of Macroeconomic Policies for Industrialization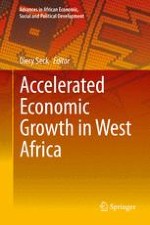 Erstes Kapitel lesen
Autor: Chukwuma Agu
Abstract
Despite the gains in growth, West Africa remains a very marginal (and fragile) player in the global economy. Neither the sterling growth performances nor the quadrupled commodity prices seem to have affected the region's share of world export.
This paper aims to question the coexistence (or even correlation) of improved macroeconomic stability in West Africa with poor diversification. Using an endogenous growth accounting procedure, the paper generates coefficients of effect of selected macro variables on growth for a panel of 16 West African countries. The sample is divided along the lines of resource dependency (agriculture, aid, oil and solid minerals). The outcome is then compared to that from an inclusive (regional) panel. Explanatory variables of interest include the key rates (interest and exchange) fiscal measures and selected structural measures.
The paper found that overall effect of deviations of these variables has been distortions in relative prices that hurt domestic production. This distortion has fuelled a rise of a set of interest groups that feed upon the sectoral inefficiencies.
Using insights from structuralism, post-structuralism and Nurksism, the paper argues that macroeconomic policies do have a role to play in diversification, but that this role is played through their impact on relative prices. Specifically, where policies are not able to work on relative prices first, they are ineffective in leading to diversification.