2017 | OriginalPaper | Buchkapitel
Western Orchestral Instruments in the Foreground: What Features Make an Instrument More Attractive for a Solo Role in Concertos?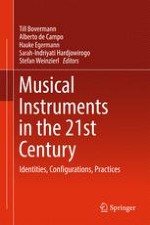 Erstes Kapitel lesen
Autor: Song Hui Chon
Verlag: Springer Singapore
Abstract
Music often consists of multiple instruments and parts. Some serve a more foreground role (such as carrying a melody) whereas others offer background support (namely, as accompaniment). Musical solos are probably the clearest example of the foreground usage. What factors then make a specific instrument attractive for performing a solo? For example, an instrument might be preferred for a solo function if there are many virtuoso musicians. Or listeners might request a solo of a rare instrument. In this chapter, we examine the popularity of an instrument to play a solo role using four factors: pitch, loudness, timbre, and performer pool size. We focus on the concerto repertoire in Western classical music, since the titles bear a clear designation of the solo instrument(s). Our hypothesis is that an instrument will be attractive for a solo if it can produce high pitches and loud sounds, has a salient timbre, and has many skilled performers available to play it. Correlation and multiple regression results were mostly in agreement with the hypothesis; an instrument is more likely to serve in a solo role when it has a higher median pitch, a highly salient timbre, and there are a larger number of trained musicians.