29.07.2017 | Original Article | Ausgabe 3/2018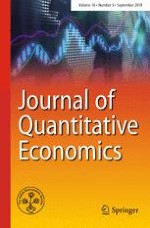 What Can We Learn About the Real Exchange Rate Behavior in the Case of a Peripheral Country?
Zeitschrift:
Autoren:

Zied Ftiti, Slim Chaouachi
Wichtige Hinweise
We are grateful to editors Professor Dilip N. Nachane and Professor Bernhard Herz. We would to thank two reviewers for their helpful comments and recommendations.
Abstract
Since the reforms undertaken by policymakers to stop the depreciation of the Tunisian currency have failed, this paper investigates the dynamic of the Tunisian real exchange rate RER). The paper examines the nonlinear behavior of the power party purchase in Tunisia. It also considers whether the RER follows a true long-memory or spurious long-memory process with the presence of shifts. The analysis has two main findings. First, strong evidence of short memory in the presence of structural breaks appears in the Tunisian RER and, second, our results highlight that the presence of structural breaks creates distortions that prevent Tunisian policymakers from reacting to the exchange rate system effectively through central bank intervention. The dynamic of the Tunisian exchange rate is governed by the heterogeneity among investors and policy changes. The presence of multiple regimes in the Tunisian exchange rate implies that monetary policy cannot affect the exchange rate dynamic through central bank interventions. Therefore, this study recommends that Tunisian policymakers follow a market-oriented strategy in making relevant reforms, such as revisiting the weight of the dinar against the euro, to ensure better management of the risks associated with foreign exchange fluctuations.