01.09.2012 | Original Paper | Ausgabe 10/2012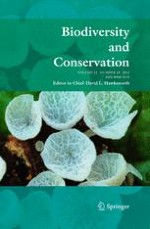 What determines Orthoptera species distribution and richness in temperate semi-natural dry grassland remnants?
Zeitschrift:
Autoren:

Franz Essl, Thomas Dirnböck
Wichtige Hinweise
Electronic supplementary material
The online version of this article (doi:
10.​1007/​s10531-012-0315-1
) contains supplementary material, which is available to authorized users.
Abstract
Wide-spread fragmentation and isolation of habitats with high nature conservation value lends increasing importance to a better understanding of the factors which determine species richness in isolated habitat patches. Using data of one of the most abundant invertebrate groups in grasslands, Orthoptera, we analysed how species richness and distribution in 60 isolated semi-natural grassland remnants in Austria were affected by five environmental variables (altitude, habitat and land use diversity within each patch, habitat diversity of areas adjacent to each patch, patch size), and related to diversity of their main food source, i.e. vascular plants. We found a significant positive correlation between Orthoptera and vascular plant species richness, with threatened Orthoptera species having the lowest correlation coefficients. Life form diversity of plants was only moderately positively correlated with Orthoptera species richness. Habitat diversity within and adjacent to the grassland patch had by far the highest loadings on the first two axes of the principal component analysis, which jointly explained 99 % of the variance, and proved to be significant for total, threatened and not threatened Orthoptera, as well as for the two Orthoptera orders occurring in Central Europe (Caelifera, Ensifera). Additionally, the distribution of the majority of those 14 Orthoptera species analysed individually was mainly correlated with habitat diversity within and adjacent to the grassland patch. However, the distribution of a significant proportion of species was associated with other factors: five species were closely related to on-site land use diversity and patch size, and the distribution of three Ensifera species was not significantly correlated to any of the explanatory variables. We conclude that a surrogate taxa approach, i.e. the use of well-known taxonomic groups (e.g. vascular plants), may indeed deliver good results for capturing total, but less so for threatened, Orthoptera species richness in semi-natural grassland remnants. Small scale habitat diversity may be crucial to allow for the co-existence of a large number of Orthoptera species and has to be taken equally into account as patch size in nature conservation.