03.01.2017 | Ausgabe 6/2017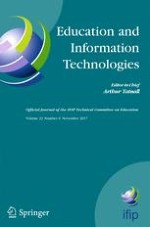 What effect does flipping the classroom have on undergraduate student perceptions and grades?
Zeitschrift:
Autor:

Kathleen K. Molnar
Abstract
There is a lack of consensus of the effects on student perceptions and performance in flipping the classroom and its possible value over the traditional face-to-face (FTF) classroom approach. This research examines the expectation that flipping an undergraduate, introductory level, information concepts and skills class would benefit student learning and evaluates the results of flipping this type of course. The study showed a significant difference in student perceptions about the course itself between web-enhanced, FTF and hybrid, flipped classrooms, but this may be dependent upon the level of technology integration rather than the approach. In addition, students who were required to work in groups on a weekly basis had more positive responses toward the flipped classroom improving their soft skills than those who did not. Finally, for written content exams it seems the flipped class approach is at least as effective as the traditional classroom in terms of grades. However, it appears teaching software skills may be better with at least some direct instruction over just the use of simulation software.