2019 | OriginalPaper | Buchkapitel
20. What Employment Policy for a Globalized India?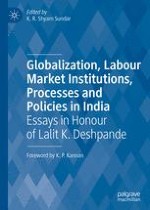 Erstes Kapitel lesen
Autor: Sher S. Verick
Verlag: Springer Singapore
Abstract
Over recent decades, the Indian economy has grown rapidly, particularly since the opening up of the economy in the early 1990s. Despite robust economic growth, the performance of the Indian labour market has been mixed. Contrary to the widely held view that India has experienced 'jobless growth', the data reveal strong employment growth in urban areas for men, while a decline in rural parts of the country for women. One of the key challenges is, indeed, the low rate of female labour force participation. In addition, the uncertain process of structural transformation has resulted in fewer workers joining manufacturing with most workers still in agriculture or construction. Overall, informality continues to be a defining feature of the Indian labour market, though aggregate figures mask underlying trends. Labour markets in India and beyond are being buffeted by megatrends, including globalization and technology, which result in both opportunities and challenges. Though various employment-related policies are in place, more needs to be done to promote decent and productive jobs through both comprehensive and targeted strategies. Stronger monitoring and evaluation are needed to ensure that lessons are learnt, and adjustments are made in policies and programmes. Finally, social dialogue, with the participation of employers' and workers' representatives, is crucial to arrive upon inclusive and sustainable solutions.