24.01.2015 | Ausgabe 1/2016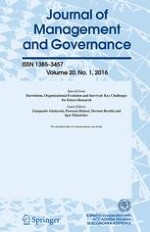 What evolves in organizational co-evolution?
Zeitschrift:
Autor:

Dermot Breslin
Abstract
Research in business and management has recently taken a co-evolutionary turn, driven both by the pace of environmental change, but also by the increasingly complex and interconnected nature of business environments. However few studies have drawn from the theoretical approaches used to study co-evolutionary processes in other scientific domains. In this paper recent advances in these other fields of study are examined with a view towards filling this gap, and providing a much needed theoretical underpinning to recent developments in co-evolutionary research. It is seen that the identification of the unit of evolution is a critical issue in this endeavor, with two broad approaches taken, namely the entity- and practice-based approach. In the former it is assumed that ideas, knowledge and capabilities are bound to individuals, groups and organizations with change over time being determined largely by external selection forces. In the practice-based view, the focus shifts to the process in which ideas, knowledge and capabilities are continually enacted and modified through actions. The paper further explores key theoretical and methodological issues relating to the development of both approaches, making a contribution not only to co-evolutionary research but to broader research in business and management.