2020 | OriginalPaper | Buchkapitel
1. What Is Buddhist Economics?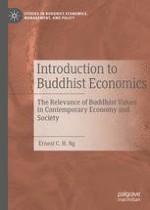 Autor: Ernest C. H. Ng
Abstract
This chapter introduces Buddhism and market economy for readers with limited prior knowledge of the fields. Buddhist Economics as an evolving and interdisciplinary subject looks into the intersection of spiritual and material well-being. It also explores from the
Buddhist
perspective how we could change Market Economics to better serve humans. Both Buddhism and market economy comprise a wide range of theories and cannot be generically explained by a single school of thought. The core motivation for Buddhist Economics is not to fulfil the missions of the market economy by applying Buddhist principles. It is however an insightful exploration on how Buddhist values could drive sustainable decisions and address some of the challenges the market economy encounters in the twenty-first century.