2020 | OriginalPaper | Buchkapitel
1. What Is Crowdsourcing for Innovation?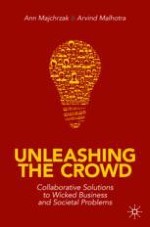 Autoren: Ann Majchrzak, Arvind Malhotra
Abstract
This book is about how crowds can help to innovatively solve
wicked
problems: problems that are vexing to companies as well as problems that have an existential impact on societies. In this chapter, we first explain what we mean by a wicked problem and what we mean by a crowd, then discuss what is meant by crowdsourcing for innovation. Then we discuss the traditional model of crowdsourcing: the Idea-Sharing process. We discuss the basic theoretical assumptions of this process and how it historically evolved. We describe the evidence for and against this process indicating why we believe this process is "mindcuffing" the crowds from offering innovative solutions to wicked problems. We introduce our competing process—collective production—which serves as the basis for the remainder of the book.