2018 | OriginalPaper | Buchkapitel
1. What Is Decentred Analysis?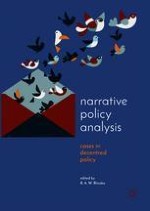 Autor: R. A. W. Rhodes
Abstract
This chapter provides a brief history of narrative policy analysis in political science, especially in the study of public administration and public policy. It outlines the specific interpretive approach developed by Mark Bevir and R. A. W. Rhodes. It explains what we mean by 'decentring' and unpacks the ethnographic toolkit we employ. It provides brief, descriptive summaries of the individual chapters and explains how each relates to the overall themes of the book. Finally, it discusses the pros and cons of a decentred approach. It concludes that the decentred analysis is edifying because it offers a novel alliance of interpretive theory with an ethnographic toolkit to explore policymaking and policy analysis from the bottom-up. It contributes to both the analysis
of
the policy process and analysis
for
the policy process.