2018 | OriginalPaper | Buchkapitel
34. What Is Embodied Music Cognition?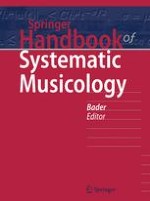 Erstes Kapitel lesen
Autoren: Marc Leman, Pieter-Jan Maes, Luc Nijs, Edith Van Dyck
Verlag: Springer Berlin Heidelberg
Abstract
Over the past decade, embodied music cognition has become an influential paradigm in music research. The paradigm holds that music cognition is strongly determined by corporeally mediated interactions with music. They determine the way in which music can be conceived in terms of goals, directions, targets, values, and reward. The chapter gives an overview of the ontological and epistemological foundations, and it introduces the core concepts that define the character of the paradigm. This is followed by an overview of some analytical and empirical studies, which illustrate contributions of the embodied music cognition approach to major topics in musical expression, timing, and prediction processing. The chapter gives a viewpoint on a music research paradigm that is in full development, both in view of the in-depth refinement of its foundations, as well as the broadening of its scope and applications.