2018 | OriginalPaper | Buchkapitel
14. What Is Energy and How Is It Related to Wealth Production?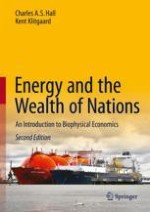 Erstes Kapitel lesen
Autoren: Charles A. S. Hall, Kent Klitgaard
Abstract
Energy is, at best, an abstract entity for most contemporary people. Only rarely does it enter our collective consciousness, generally in those relatively rare times when there are particular shortages or sharp price increases in electricity or gasoline. In fact, as this book will demonstrate, energy and its effects are pervasive, relentless, all-encompassing, and responsible for not only each process and entity in nature and our own economic life but also for many aspects of the basic nature of our psyches and many of the ways that world history has unfolded. Few understand or acknowledge this because the pervasive impact in energy shown in this book does not usually enter into our collective training and education, and it does not enter into our educational curricula. Why is this so? If energy is as important as we believe then why is that not more generally known and appreciated? The answers are complex. One important reason is that the energy that is used to support ourselves, our families, or our economic activity generally is used at some other location and by other people, often in order to reduce environmental impacts on people, or by quiet, automatic machines whose fuel tends to be relatively cheap. After all, coal oil and gas, our principal sources of energy, are basically messy, smelly, dangerous, and unpleasant materials. The energy from food that we need to fuel ourselves surrounds most of us abundantly and is available readily and relatively cheaply. Society has gone to great lengths to isolate most of us physically and intellectually from the energy sources upon which our food, our comfort, our transportation, and our economy depend. It is convenient to ignore energy because many facts about it are uncomfortable to know.