2019 | OriginalPaper | Buchkapitel
1. What Is Hate?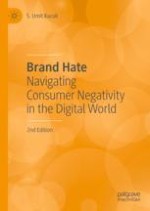 Autor: S. Umit Kucuk
Abstract
In this chapter, I tried to explain the hate in light of the available psychology literature. I tried to define general human feeling of hate with examples in two important components: "threatened egotism" and "perceived injustice". I focused on threatened egotism and perceive injustice as the major root-causes of feeling of hate and anger. I used Sternberg's hate classification in order to define the various dimensions of hate. I have discussed various forms of hate from low level to high level (or alternatively severe hate) in terms of Sternberg's Triangular hate model. After reading this chapter, readers should have a basic understanding of the concept of hate and its dimensions.