2017 | OriginalPaper | Buchkapitel
1. What Is 'Hayek'?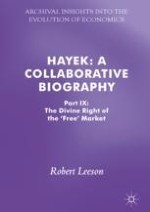 Autor: Robert Leeson
Abstract
How did the sacred texts of four malevolent individuals—Ayn Rand, Ludwig von Mises, Friedrich von Hayek and Murray Rothbard—construct a 'free' market religion which, in several countries, all but turned the State into their 'subsidiary'? 'Fascism' (as defined and praised by Mises) overthrew democracy in Italy (1922), Spain (1923), Chile (1924, 1973), Poland (1926), Portugal (1926), Germany (1933), Austria (1934) and elsewhere. Hayek sought to overthrow the US Constitution and replace it by a sentence written by a dictator-promoting European aristocrat; while after the first bombing of the World Trade Centre, the tax-exempt Rothbard encouraged further terrorist attacks on the United States. His 'accelerate the Climate of Hate' 'Outreach to the Redneck'—which sought to form an Austrian School Pact with para-militia groups—fuelled terrorists attacks in Oklahoma (Timothy McVeigh), South Carolina (Dylann Roof) and Norway (Anders Breivik).