2017 | OriginalPaper | Buchkapitel
2. What Is Inflation?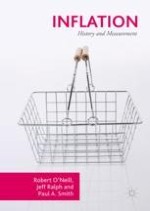 Erstes Kapitel lesen
Autoren: Robert O'Neill, Jeff Ralph, Paul A. Smith
Abstract
This book is largely concerned with the use of a statistical tool, Index Numbers, to measure a particular economic phenomenon which is typically referred to as inflation. This chapter of the book will focus on what inflation is, why it matters and why it might be important that we have a good measure of the phenomenon in the form of an Official Statistic, and in turn, why it might be important to read the rest of this book! Economists will likely be familiar with much of the content in this chapter; however, it is worth making sure that we begin our discussion of the measurement of inflation on a common footing with those readers who may have less training in this area.