1974 | OriginalPaper | Buchkapitel
What is Logic?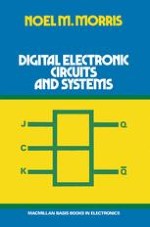 Autor: Noel M. Morris
Verlag: Macmillan Education UK
Enthalten in: Professional Book Archive
The subject of electronic logic is one which embraces the whole field of electronics from computers to automobiles and from telephone exchanges to toys. 'Logic' devices serve man in every walk of life, each device or system operating in a predictable manner. In fact, so predictable is their operation that we can use a form of logical algebra to determine the way in which the circuit works. This type of algebra is sometimes known as boolean algebra, after the Rev. G. Boole (1815–64) who set down the basic rules. Mathematicians often refer to it as set theory, or the theory of 'sets'.