2019 | OriginalPaper | Buchkapitel
9. What Is Problem Represented to Be: Water Scarcity, Water Mismanagement or Misdirecting the Systems?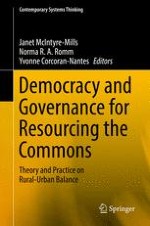 Erstes Kapitel lesen
Autoren: Jackwin Simbolon, Janet McIntyre-Mills
Abstract
The chapter delves into the area of concern of water scarcity in an area in Indonesia that we will call Nauli. The central and regional governments have misused the water provision function to commodify drinking water, and the government regards water as a commercial good and prefers to sell it to the people rather than provide it as a common good. The chapter applies a critical analysis to address the social, cultural, political, economic and environmental context of the problem which reveals that the root of the problem is a misdirected system of managing water in the interests of profit for some at the expense of the majority and the environment. Data collected from fieldwork undertaken by Simbolon (December 2015) shows that conflicts between governments occurred and water companies commodified water while neglecting to maintain water quality and to provide services that also support and preserve the environment. The chapter proceeds to examine the wicked problem of how to address the challenges of decentralisation by ensuring that the needs of people are met by those who are elected and that the constitutional requirements of providing water are indeed addressed. The WPRB approach is used to produce a map of the different ways in which the problem is represented and propose a shift in the paradigm to address the water management problem through Ulrich's critical systems heuristics (CSH).