2015 | OriginalPaper | Buchkapitel
18. What Is Team Theory?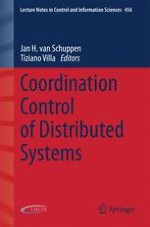 Erstes Kapitel lesen
Autor: Jan H. van Schuppen
Abstract
A team problem is a stochastic decision problem with two or more decision makers. The decision is only taken once, there is no time axis as in control theory. The teams strive to optimize a common objective function but have different information to reach their decisions. The team wants to determine an optimum, the global optimum if it exists. To achieve at an optimum, they use the concept of a person-by-person or person-by-person equilibrium. The main problem of team theory is then to determined conditions under which a person-by-person equilibrium is also an optimum or the global optimum, and to compute a person-by-person equilibrium. This chapter restricts attention to what is called static team theory and does not discuss at length dynamic team theory.