01.09.2014 | Ausgabe 5/2014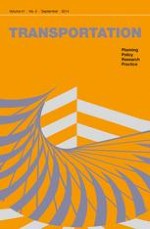 What is the relationship between online activity and driving-licence-holding amongst young adults?
Zeitschrift:
Autoren:

Scott Le Vine, Charilaos Latinopoulos, John Polak
Abstract
There is growing interest amongst both practitioners and researchers in the correlates of young adults' driving-licence-acquisition. One aspect of the ongoing scholarly debate is whether taking part in online (i.e. virtual) activities may be associated with young adults feeling less need to drive and hence to acquire a driving licence. This paper addresses this issue by drawing on analysis of two distinct datasets. Both contain rich pseudo-diary instruments in which people indicate detailed characteristics of their unique online-activity profile. This includes both indicators of the
types
of online activities in which respondents participate, and a separate metric of internet-use
intensity
. The latter is defined in one dataset as the amount of time/week spent online, and in the other dataset the frequency of their internet use. On the basis of a set of multivariate regression analyses, a positive (i.e. complementary) cross-sectional relationship between young adults' online activity and licence-holding was found. We find that young adults who use the internet are, net of confounding effects, more likely to hold a driving licence than otherwise identical young adults who do not use the internet. Both datasets show this type of effect, and it is robust across a range of model specifications, including multi-stage estimations to address cross-correlation between indicators of internet usage. In addition to the positive net statistical association, we also report several other noteworthy effects. Of the six effects associated with online-activity types that are directly comparable between the two datasets, we find that the correlation in the parameter estimates across the two datasets is 0.63. This suggests similar types of relationships across the two datasets. Also, in several (but not all) of our analyses we found an inverted 'U' shaped
ceteris paribus
relationship between intensity-of-internet-use and licence-holding. The positive net statistical association between internet use and licence-holding is a different relationship than previously reported in the literature, and therefore further research is needed to reconcile the differences (which are likely due at least in part to different methodological approaches and data resources). Further research is also needed to continue to resolve between the relative saliency of other hypothesised determinants of licence-holding (e.g. economic and socio-demographic explanators, as well as licence-acquisition regimes that vary by time and place).