2020 | OriginalPaper | Buchkapitel
1. What Is the Rule of Three?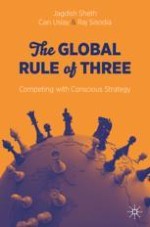 Autoren: Jagdish Sheth, Can Uslay, Raj Sisodia
Abstract
This chapter provides an overview of the Rule of Three. Competitive markets grow, consolidate, and mature, ultimately leading to the emergence of three full-line generalist firms. These volume-driven players must have a minimum efficient scale of at least 10% market share and are accompanied by a number of smaller product or market specialists. The financial performance of full-line generalists graduall
y
improves with greater market share, while the performance of specialists drops off rapidly as their market share increases. In between the generalists and specialists are the companies who exhibit the worst financial performance, stuck in "the ditch." The best strategy is to stay far away from the ditch. The Rule of Three applies to all stages of a market's geographical evolution: local, regional, national, and ultimately global. The Rule of Three structure generates optimal operational efficiency in competitive markets and positive impact on all stakeholders. It is an empirical reality that must be factored into the strategy of businesses of all sizes.