01.03.2015 | Ausgabe 1/2015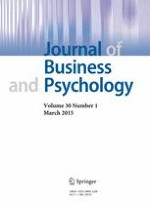 What Makes Us Enthusiastic, Angry, Feeling at Rest or Worried? Development and Validation of an Affective Work Events Taxonomy Using Concept Mapping Methodology
Zeitschrift:
Autoren:

Sandra Ohly, Antje Schmitt
Wichtige Hinweise
S. Ohly and A. Schmitt contributed equally to this work. Authorship is in alphabetical order.
Abstract
Purpose
Affective events theory (AET) highlights the importance of work events as antecedents of distinct emotions, attitudes, and work behavior. However, few attempts have been made to systematically classify positive and negative work events. The aim of this study was to develop a comprehensive taxonomy of affective work events to provide a common frame of reference for future research and to improve communication among researchers regarding research on affective work events.
Design and Methodological Approach
Positive and negative affective work events were sampled from employees using a diary study design. We used concept mapping methodology as an exploratory approach to analyze the data on affective work events.
Findings
Two hundred eighteen employees reported 559 positive and 383 negative affective work events. We identified four positive and seven negative event clusters. Each event cluster showed a unique relationship with distinct affective states, even when controlling for the occurrence of events without clustering and trait affect. The results support the validity of our taxonomy.
Implications
This study contributes to previous literature by providing a comprehensive yet parsimonious classification of both positive and negative affective work events. The affective work event clusters found reflect personal values of agency and communion. This classification of affective events as reflecting agentic and communal values provides a starting point for the integration of findings from previous studies.
Originality and Value
The taxonomy developed in this study provides an integrative approach and a basis for future research to more differentially investigate relationships proposed by AET.