2018 | OriginalPaper | Buchkapitel
11. What Should Be Avoided During Qualitative Research?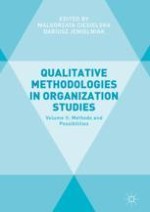 Erstes Kapitel lesen
Autoren: Beata Glinka, Przemysław Hensel
Abstract
This chapter is focused on typical mistakes made in qualitative research projects. Its aim is to show traps and mistakes researchers face in their work, in order to help them understand and avoid possible pitfalls, and design and execute projects more carefully. The first part of the text includes explanation of the nature of typical research mistakes. We describe it against the background of different ontological assumptions, paradigms, and perspectives applied by researchers. The sources and areas of methodological criticism are also analyzed. We point out how some of the criticism is connected with different sets of assumptions adopted by researchers. The following part of the chapter concentrates on descriptions of typical mistakes made on different stages of qualitative research projects: project design, data collection, data analysis, and text writing. Some tips on how to avoid mistakes are offered. The text includes practical examples from different research projects showing how and why mistakes are made.