2014 | OriginalPaper | Buchkapitel
5. What the Design Theory of Social-Cyber-Physical Systems Must Describe, Explain and Predict?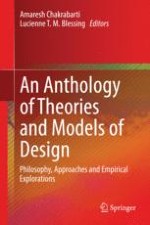 Erstes Kapitel lesen
Autor: Imre Horváth
Verlag: Springer London
Abstract
An intense shift from traditional mechatronics systems to cyber-physical systems has been taking place over the last two decades. The former systems, which integrate mechanical, electronics, computing, control and situated reasoning components, are typically implemented as closed, predefined, controlled and deterministic systems. The latter systems are characterized by open system boundaries, large functional and structural complexities, self-learning and -reasoning capabilities, partial autonomy, context-driven adaptability, and decentralized decision making. As the latest trend, they are getting more extensively embedded in the fabric of society. There exists no dedicated design theory that would explain how to conceptualize, design and realize this family of non-linear systems. In this paper, concentrating on the changing place and role of information, first an overview of the milestones of the overall physical, biological, social and technological evolution is given. Then, the distinguishing characteristics of cyber-physical systems are analysed, the current transition towards social-cyber-physical systems is considered, and the need for a comprehensive design theory for this family of systems is explained. As examples of the aspects which the design theory of social-cyber-physical systems should describe, explain, and predict, the phenomenon of: (a) aggregative complexity, (b) emergent attributes/behaviour, (c) compositional synergy, (d) multi-abstraction-based specification, (e) dynamic scalability, (f) multi-modal prototyping, and (g) integrity verification and behaviour validation are discussed and the issues of handling them in design are addressed. The main proposition is that there is an urgent need for a multi-disciplinary research in this novel domain of interest in order to facilitate a deeper disciplinary understanding and to allow the development of specific design methodologies and computational support tools.