01.06.2015 | Ausgabe 2/2015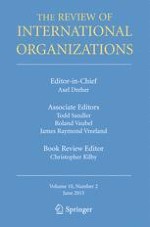 When do international economic agreements allow countries to pay to breach?
Zeitschrift:
Autoren:

Krzysztof J. Pelc, Johannes Urpelainen
Abstract
What explains how some international agreements allow countries to buy their way out of violations? In some regimes, offering to compensate affected parties renders a violation permissible; in others, compensation serves at most a provisional function, with full compliance the only satisfactory outcome. While allowing for breach-and-pay in instances where it leaves all parties better off appears optimal, institutions vary a great deal in the extent to which they tolerate such "efficient breach." To account for this variation, we consider how the design of the agreement affects the odds of mobilization of domestic groups. We argue that when the benefits from violations accrue mainly to government itself, efficient breach does leave governments better off. Yet when governments benefit only indirectly, through the political support offered by interest groups who are the direct beneficiaries of violations, the possibility of efficient breach increases the payoffs from mobilization. In those cases, allowing for efficient breach strengthens the domestic opposition to the very liberalization pursued by the treaty. Our model predicts that international trade agreements should spurn efficient breach, while investment agreements should favor it. We test these implications by considering dispute settlement and enforcement mechanisms in both regimes.