2000 | OriginalPaper | Buchkapitel
When Does Environmental Variability Become Environmental Change?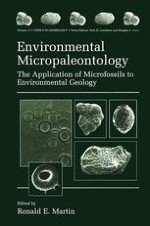 Erstes Kapitel lesen
The Proxy Record of Benthic Foraminifera
Autor: John William Murray
Verlag: Springer US
Enthalten in: Professional Book Archive
The aim of ecological studies is to establish the relationship between the biota (e.g., community structure of populations of living organisms including standing crop, species abundance, and species diversity) and the attributes of the environment (physical, chemical, and biological). Such studies may be spatial involving a suite of samples collected over a geographic area during a very short time interval (days), or temporal, where samples are collected from one (or more) sites over an extended period of time (ideally several decades). Spatial studies give a snapshot over a broad area, whereas temporal studies give a near-continuous record of a very small area.