2018 | OriginalPaper | Buchkapitel
Which Factors Can Explain Individual Outcome Differences When Learning a New Articulatory-to-Acoustic Mapping?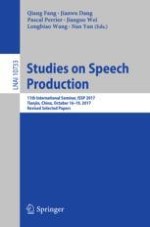 Erstes Kapitel lesen
Autoren: Eugen Klein, Jana Brunner, Phil Hoole
Abstract
Speech motor learning is characterized by inter-speaker outcome differences where some speakers fail to compensate for articulatory and/or auditory perturbations. Hypotheses put forward to explain these differences entertain the idea that speakers employ auditory and sensorimotor feedback differently depending on their predispositions or different acuity traits. A related idea implies that individual speakers' traits may further interact with the amount of auditory and somatosensory feedback involved in the production of a specific speech sound, e.g. with the degree of the tongue-palate contact. To investigate these hypotheses, we performed two experiments with an identical group of Russian native speakers where we perturbed vowel and fricative spectra employing identical experimental designs. In both experiments we observe compensatory efforts for all participants. However, among our participants we find neither compelling evidence for individual feedback preferences nor for consistent speaker-internal patterns of the learning outcomes in the context of vowels and fricatives. We suggest that a more plausible explanation for our results is provided by the idea that fricatives and vowels exhibit different degrees of complexity of the articulatory-to-acoustic mapping.