2019 | OriginalPaper | Buchkapitel
6. Which of 20 Voting Procedures Satisfy or Violate the Subset Choice Condition (SCC) in a Restricted Domain?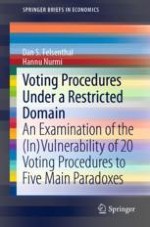 Erstes Kapitel lesen
Autoren: Dan S. Felsenthal, Hannu Nurmi
Abstract
The relative desirability of a voting procedure is assessed,
inter alia
, by verifying which axioms, or postulates, it satisfies or violates. One of these axioms is the
subset choice condition
(SCC). This axiom requires that if a candidate,
x
, is elected under a given voting procedure,
f
, in a profile consisting of
n
voters and
k
competing candidates (
n
,
k
 > 1), then
x
ought to be elected by
f
also in such profiles over any proper subset of candidates that contain
x
and that preserve the pairwise preference relations of the original profile. Most known voting procedures violate, in general, this axiom. However, we were interested to find out which voting procedures satisfy or violate this axiom under a
restricted domain assumption
where a Condorcet winner exists and is elected in the initial profile by the investigated voting procedure. It turns out that, obviously, all conceivable Condorcet-consistent voting procedures satisfy SCC under this restricted domain assumption. However, most known non-Condorcet-consistent procedures continue to violate SCC even under the restricted domain assumption.