2014 | OriginalPaper | Buchkapitel
Why Bother Securing DNS?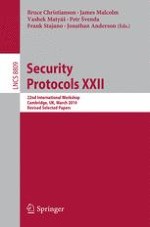 Autor: Dieter Gollmann
Abstract
The current state of DNS security is characterized by two opposing developments. DNSSEC introduces a PKI to support message authentication in the DNS protocol; DANE proposes to use this PKI also for provisioning TLS certificates. At the same time, PKIs are perceived as a major point of weakness; mechanisms like certificate pinning attempt to reduce the trust one needs to place in a PKI. We note that DNS provides rendezvous, identification, and introduction services and argue that this differentiation can reduce the impact of compromised trusted third parties.