01.09.2012 | Ausgabe 3/2012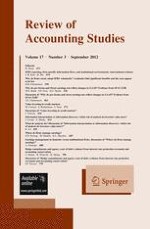 Why do firms rarely adopt IFRS voluntarily? Academics find significant benefits and the costs appear to be low
Zeitschrift:
Autor:

Hans B. Christensen
Abstract
Kim and Shi (Rev Account Stud, doi:
10.​1007/​s11142-012-9190-y
, this issue) document that voluntary IFRS adoption is associated with significant benefits and argue that the effect is causal—a conclusion that is similar to many published papers on IFRS adoption. Yet voluntary IFRS adopters constitute only a small percentage of the global population of firms, which implies that either practitioners behave irrationally or the benefits are incorrectly estimated by academics. In this discussion I argue that the error is on the part of academics, not practitioners, and that it is mainly due to the lack of exogenous variation in accounting standards. This conclusion is based on inconsistencies between the estimated benefits and costs of IFRS adoption, as well as the accounting standards choices of presumed rational managers. I also propose a contracting explanation for the capital market benefits around IFRS adoption in which managers behave rationally, but IFRS per se is not the cause.