2020 | OriginalPaper | Buchkapitel Open Access
4. Why Is
Kaizen

Critical for Developing Countries?:

Kaizen

as a Social Innovation in the Era of Global Inequality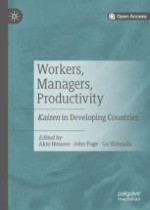 Autor: Go Shimada
Verlag: Springer Singapore
Abstract
One of the most important global issues we face today is rising inequality in both developed and developing countries. Even if the inequality between countries has converged with the economic growth of emerging states, domestic inequality has worsened. In regional terms, even if the overall economic gap has lessened, African countries still lag behind those in other regions. To change this situation, industrial sector development is certainly important, but to catch up, what African countries need to do is twofold. The first is to move their production possibility frontier (PPF) outward (movement of the PPF curve itself) with innovations. The second way is to assist average firms to reach their production possibility frontier using existing technology (movement toward the frontier). However, these changes may not be enough to tackle the issue of rising inequality in each country. We cannot expect the benefit of industrial development or firm growth to easily trickle down to the poor. Then, how can we make industrial development work for the poor? This chapter tries to answer this question looking back at Japan's experience.
Japan created a social innovation through introducing
Kaizen
, establishing constructive labor relations, which once was very combative, to share the profits equitably. This innovation not only improved the lives of workers but also strengthened the competitiveness of firms. This is because employees became loyal to the firms they belong to with life-time employment and company-specific labor unions (most Japan's labor unions are not organized by industry). This is not technological innovation, but an innovation to boost firm performance and, hence, economic growth. This win-win situation, achieving economic growth and equality, was a social innovation. Developing countries, as well as developed countries, need this social innovation to tackle the issue of inequality in the age of globalization and rapid economic growth.
Kaizen
is an essential knowledge, a missing piece to achieve equitable growth.