15.05.2019 | Research Article | Ausgabe 3/2019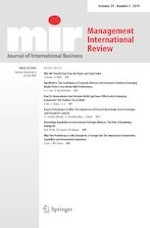 Why Poor Performance is Not Enough for a Foreign Exit: The Importance of Innovation Capability and International Experience
Zeitschrift:
Autoren:

Qun Tan, Carlos M. P. Sousa
Wichtige Hinweise
Publisher's Note
Springer Nature remains neutral with regard to jurisdictional claims in published maps and institutional affiliations.
Abstract
More and more firms are entering foreign markets. However, while research on international entry and expansion has been a particularly important topic in the literature, there has been a dearth of empirical research explaining firms' exit decisions from foreign markets. To address this gap in the literature, this study examines the exit behavior of emerging market MNCs. More specifically, we explore the firms' exit behavior in the context of the headquarters-foreign affiliate relationship. To this end, this study develops a model whereby the impact of performance on the firms' exit decision is moderated by innovation capability and international experience. Using secondary and primary data collected from multiple respondents from Chinese outward foreign direct investment firms, the findings indicate that innovation capability moderates the relationship between performance and exit decision. However, and contrary to expectations, the study suggests that incremental and radical innovation have an opposite contingent effect on the performance-exit relationship. In addition, the moderating effect of innovation capability on the performance-exit relationship was further moderated by international experience. Implications of these findings along with the limitations of the study are discussed.