2017 | OriginalPaper | Buchkapitel
16. Wide-Bandgap II-VI Semiconductors: Growth and Properties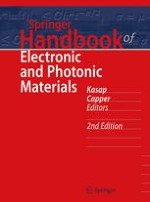 Erstes Kapitel lesen
Autoren: Minoru Isshiki, Jifeng Wang
Verlag: Springer International Publishing
Abstract
Wide-bandgap II–VI compounds are been applied to optoelectronic devices, especially light-emitting devices in the short-wavelength region of visible light, because of their direct gap and suitable bandgap energies. Many methods have been extensively applied to grow high-quality films and bulk single crystals from the vapor and liquid phases.
This chapter firstly discusses the basic properties and phase diagrams of wide-bandgap II–VI compounds such as ZnS, ZnO, ZnSe, ZnTe, CdSe and CdTe. Then the growth methods and recent progress in films and bulk crystal growth are reviewed. In the epitaxial growth methods, the focus is on liquid-phase epitaxy (
LPE
), vapor-phase epitaxy (
VPE
) containing conventional VPE, hot-wall epitaxy (
HWE
), metalorganic chemical vapor deposition (
MOCVD
) or metalorganic phase epitaxy (
MOVPE
), molecular-beam epitaxy (
MBE
) and atomic-layer epitaxy (
ALE
). In bulk crystal growth, two typical growth methods, chemical/physical vapor transport (
CVT
/
PVT
) and Bridgman techniques, are introduced.