21.11.2018 | Original Paper | Ausgabe 2/2018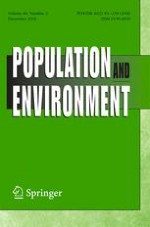 Will boys' mental health fare worse under a hotter climate in Australia?
Zeitschrift:
Autoren:

Ying Xu, Sarah Ann Wheeler, Alec Zuo
Abstract
A hotter climate is increasingly found to have negative effects on human health, yet the possible impact on children's mental health is less understood. Our study explored this potential relationship using a national survey of children aged 6–11 across Australia, during the period 2008–2014 (
n
 = 14,096). It was hypothesised that the negative effects of hotter weather on children's mental health can occur both directly (e.g. through heat impacts influencing hyperactivity and restlessness) and indirectly (e.g. through reduced participation in organised physical activities). Mediation analysis controlled for a range of other locational, gender, socio-economic and demographic influences. Results indicate that an increase in annual average daily maximum temperature worsened childhood mental health due to a direct and indirect effect through reduced participation in organised physical activities, as measured by the Strengths and Difficulties Questionnaire (SDQ) total score, but the result is only significant for boys (albeit the magnitude of the effect was small). More specifically, temperature differences are driven through the SDQ mental health sub-scales of hyperactivity and peer problems. Gender disparities are also observed in terms of other environmental or locational influences having a significant impact on boys' mental health, with no significant impact found for girls. Girls' mental health is more likely influenced by family and individual socio-economic characteristics. There is also evidence of an increased impact of higher temperature on children's mental health in poorer households, suggesting the need for more targeted children's mental health policies.