1996 | OriginalPaper | Buchkapitel
Wind-Blown Snow: Sublimation, Transport and Changes to Polar Snow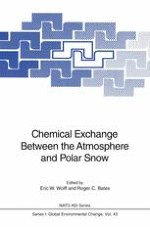 Erstes Kapitel lesen
Autoren: J. W. Pomeroy, H. G. Jones
Verlag: Springer Berlin Heidelberg
Enthalten in: Professional Book Archive
In their hallmark work on the Antarctic blowing snow phenomenon, Budd et al. (1966) recounted a quote of Peary (1898) that still has relevance to interpretation of glacial phenomena:
"There is one thing of special interest to the Glacialist — the transport of snow on the ice-cap by the wind"
Following Peary's reasoning, the blowing snow phenomenon was studied intensively in the Antarctic several decades ago (Lister, 1960; Mellor and Radok, 1960; Dingle and Radok, 1961; Budd et al, 1966) with more recent studies by Kobayashi (1978), Takahashi (1985) and Moore et al. (1994). Other work of similar nature has been conducted in the Arctic (Dyunin, 1959; Benson, 1982; Tabier et al, 1990b; Benson and Sturm, 1993). Blowing snow is quite frequent in the Antarctic, Dalrymple (1966) noted snow transport occurred from 30–55% of the time in the South Pole region, increasing to 55–65% of the time at Byrd Station. Fujii (1981) found snow accumulation to occur in only one or two out of every three years in East Antarctica because of wind erosion and sublimation. At Mzuho Station, East Antarctica, Takahashi et al. (1994) estimated that of an annual snowfall of 140–260 mm water equivalent, 100 rnm/year is eroded from surface snow and transported away by blowing snow and 50 mm/year sublimates.