17.08.2017 | Ausgabe 3/2017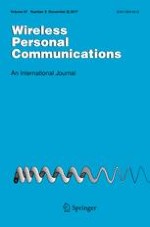 Wireless Information and Power Transfer in
Kth

Best Relay Selection Systems with Energy Beamforming over Nakagami-

m

Fading Channels
Zeitschrift:
Autoren:

Van Phu Tuan, Hyung Yun Kong
Abstract
In this paper, we propose and analyze an amplify-and-forward relaying energy harvesting system with
Kth
best partial relay selection and energy beamforming over Nakagami-
m
fading channels. The
Kth
best relay is selected based on criteria such as the
Kth
best first-hop channel gains (KBFC scheme) and the
Kth
best second-hop channel gains (KBSC scheme). Both the time-switching relaying and power-splitting relaying protocols are examined. To evaluate the system performance, we derive analytical expressions for the outage probability and throughput in both the delay-limited transmission (DLT) and delay-tolerant transmission (DTT) modes. Then the optimal values of these throughput are determined. The DLT mode is considered in two optimal cases: global-optimal DLT (GODLT), where an optimal pair of the source rate and energy-harvesting ratio is employed, and local-optimal DLT (LODLT), where only optimal energy-harvesting ratio is used. Monte Carlo simulations are presented to corroborate our analysis. The results in terms of throughput show the following. (1) For the LODLT mode, at relatively low SNRs, the KBSC scheme outperforms the KBFC scheme except for
\(K=1\)
. (2) For the DTT and GODLT modes, the KBSC scheme is more efficient than the KBFC scheme at high values of
K
. (3) When the signal quality increases, the throughput for the DTT and GODLT modes is significantly enhanced, whereas that for the LODLT mode reaches an upper limit.