2012 | OriginalPaper | Buchkapitel
Wireless Sensor Networks for Earthquake Early Warning Systems of Railway Lines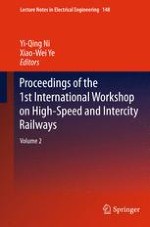 Erstes Kapitel lesen
Autoren: Dan Wang, Yiqing Ni
Verlag: Springer Berlin Heidelberg
Earthquake early warning system (EEW) is of huge interest as the general public is less and less willing to accept that earthquake damage to lives and properties is a fate to bear. Carrying high social and commercial value, high speed railway lines stand at the weakness point for the public to endure such fate if earthquake happens. There are many earthquake early warning systems. The key of the EEW is an
accurate
and
timely
report of earthquake warning under such constraints as geographical and geological prediction limitation, communication constraints, fault tolerance; to name but a few.
Wireless sensor network (WSN) is used in many domains due to its advantage in cost, simple maintenance, robustness, etc. There are calls to use WSN for EEW in recent years. In this paper, we first present a modular designed WSN framework for EEW. In this framework, we study two bottlenecks of applying WSN to EEW. First, we study the locations that the sensors should be placed (or the sensor density), so as to achieve a timely warning report and system efficiency. We observe that wireless communication is faster than the destructive S-wave of the earthquake. Therefore, a trade-off can be made so that the number of the sensors to be deployed or maintained can be significantly reduced. Intrinsically, the faster P-wave of the earthquake should first hit at least one sensor which can gather, compute and transmit this information to the damage prone point, before the S-wave arrives. Second, we study a deadline driven strategy for WSN to reduce false alarms. In this case, the WSN of EEW and the WSN of the railway line health monitoring system will work together. Since the sensors of the railway line health monitoring system of the railway lines are densely deployed, there will be a great number of reports generated. An early aggregation of the information is needed to localize and evaluate the earthquake range and impact. False alarms should be filtered out.
These problems are intrinsic and cannot be improved by engineering advances. A joint foundational understanding of the communication limitation, complexity reduction of the computing systems, and earthquake knowledge is required. We believe that this work can serve as a first step before the development of a practical EEW system.