12.01.2018 | Theoretical / Philosophical Paper | Ausgabe 2/2018 Open Access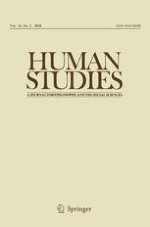 Wittgenstein as a Philosopher of Technology: Tool Use, Forms of Life, Technique, and a Transcendental Argument
Zeitschrift:
Autoren:

Mark Coeckelbergh, Michael Funk
Abstract
The work of Ludwig Wittgenstein is seldom used by philosophers of technology, let alone in a systematic way, and in general there has been little discussion about the role of language in relation to technology. Conversely, Wittgenstein scholars have paid little attention to technology in the work of Wittgenstein. In this paper we read the
Philosophical Investigations
and
On Certainty
in order to explore the relation between language use and technology use, and take some significant steps towards constructing a framework for a Wittgensteinian philosophy of technology. This framework takes on board, and is in line with, insights from postphenomenological and hermeneutic approaches, but moves beyond those approaches by benefiting from Wittgenstein's insights into the use of tools, technique, and performance, and by offering a transcendental interpretation of games, forms of life, and grammar. Focusing on Wittgenstein's philosophy of language in the
Investigations
, we first discuss the relation between language use and technology use, understood as
tool use
, by drawing on his analogy between language and tools. This suggests a more general theory of technology use, understood as
performance
. Then we turn to his epistemology and argue that Wittgenstein's understanding of language use can be embedded within a more general theory about technology use understood as tool use and
technique
, since language-in-use is always already a skilled and embodied technological practice. Finally, we propose a
transcendental
interpretation of games, forms of life, and grammar, which also gives us a transcendental way of looking at technique, technological practice, and performance. With this analysis and interpretation, further supported by comments on robotics and music, we contribute to using and integrating Wittgenstein in a more systematic way within philosophy of technology and engage with perennial questions from the philosophical tradition.