2018 | OriginalPaper | Buchkapitel
Women Entrepreneurship in India: A Work-Life Balance Perspective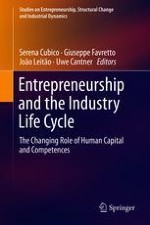 Erstes Kapitel lesen
Autoren: Ajay K. Jain, Shalini Srivastava, Serena Cubico
Abstract
The purpose of this empirical study is to study women entrepreneurs' psychological well being as supported by their family members in terms of support network so that effect of role overload and dependent care could be minimized. In any society, women receive relatively less support in order to fulfill their career aspirations. In a study on south Indian women entrepreneurs, researchers have examined the factors of work life balance for women entrepreneurs. These factors are termed as,
role overload, dependent care, quality of health, time management and support network
.
Due to some limitations of past studies, we felt a strong need to conduct another study on women entrepreneurs with an improved research design. Hence, this study is aimed at exploring the moderating impact of support network on the relationship of role overload and dependent care on quality of health and time management on a sample of north Indian women entrepreneurs. The data were collected from a sample of 130 women entrepreneurs located in Northern India. Results of moderating regression analysis showed the significant impact of support network on the relationship between predictor and criterion variables. Implications are discussed for women in Indian society.