2018 | OriginalPaper | Buchkapitel
Word Sense Comparison Between DCC and GKB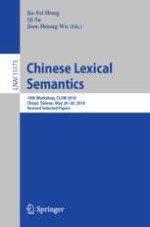 Erstes Kapitel lesen
Autoren: Lingling Mu, Xiaoyu Cheng, Yingjie Han, Hongying Zan
Abstract
Dictionary of Contemporary Chinese
(DCC) is an authoritative, human-oriented dictionary that defines word senses in natural language.
The Contemporary Chinese Grammatical Knowledge Base
(GKB) uses detailed syntactic information to describe word senses. The combination of DCC and GKB will be helpful for studying the problem of word sense distinction and word sense disambiguation (WSD). In this paper, we defined the types of alignment of the individual word sense and the types of word sense granularity correspondence. We also designed semi-auto algorithm that used the similarity of definitions and example sentences to compute words sense alignment. The algorithm turned definitions and example sentences into word sequences, and then used sememes of HowNet to compute the similarity of word sequences. The individual word sense alignment and word sense granularity correspondence are constructed based on the similarity. This algorithm was used to construct the individual word sense alignment table and word sense granularity correspondence relation of intersection words of the two dictionaries. The results of word sense granularity correspondence relation analyzing showed that the word sense alignment between DCC and GKB are quite complicated. The completely "equal" sense mainly exists in the monosemy. Generally speaking, the word sense granularity of GKB is larger than that of DCC. There are "no correspondence" word senses in both dictionaries. The integration of semantic meaning and syntactic information of the two dictionaries can be achieved based on sense alignment and will be helpful for solving natural language processing problems such as WSD.